Houseview and material list for prefab villa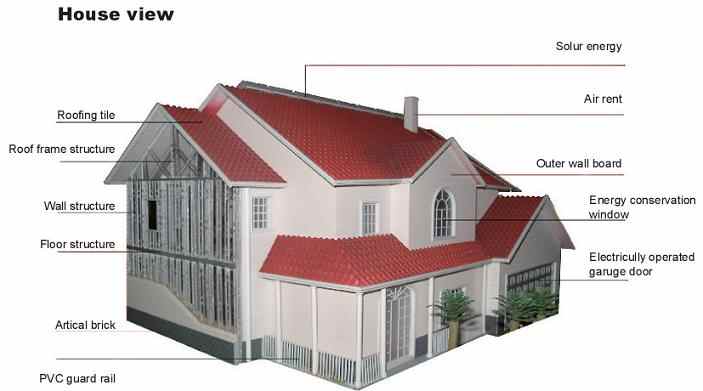 Materail List(Basic):
Base Steel Floor Frame-Bearers and Joists (Stump Posts not included)
Steelwork in accordance withAS4100 Steel Structures Code andAS/NZS4600-1996 Cold Formed Steel Structures.Welded and/or bolted connections.
Floor Board-MGO Waterproof Board
Standard sheet size 2440 x 1220 x18mm
Optional:18mmPlywood Floor
Floor Coverings-Non-standard optional extra, quoted on Project Basis
PVCFlooring; Bamboo Flooring; Engineered Flooring;Tiles; Carpets
Wall Structure - Pre-fabricated Light Steel Frame System, fully braced with tension rods.
Complete assembly details utilising an easy Coding System. High tensile 'hold down' bolts
for fixing after wall frame erection completed.
Standard Wall consists of:8mm MGO + 75mm Steel frame + 75mm Fibreglass Insulation + 8mm MGO + 25mm XPS + 8mm Fibre Cement and Corrugated Steel Sheets.
Optional Inner Boards:plasterboard; calcium silicate board; HPLSheeting; Other
Optional Insulation Materials:PU, Rockwool, EPS, Phenolic Foam
Optional Outer Boards:Aluminium Panel; Zinc-coated Steel; FC Steel; Other
Roof & Ceiling System - Prefabricated Steel Roof Truss System and associated members.
Delivered with detailed set-out plans and ready for final assembly and attachment to external walls. Insulated Steel-faced 75mm PU Sandwich Panel and steel ridge capping.Steel ceiling battens and 6mm MGO Ceiling Board.
Windows and Doors- Aluminium Framed Windows and Sliding Doors with 5mm Toughened
Glass Certified to Australian Standard.
Aluminium Alloy: 6063-T5; 1.5mm Windows, 2mm Doors. Colour: white powder-coated. Includes Flyscreens,locks and window furniture.All windows and doors are pre-hung within timber frame; weather-seals pre-fitted.
Solid External Door to Carport and Hollow Internal Doors.
Optional Upgrade to Double Glazed Units.
Moldings-
90mm Plaster Cornice & adhesive
Architraves and Skirting throughout