Container House
Demountable Containers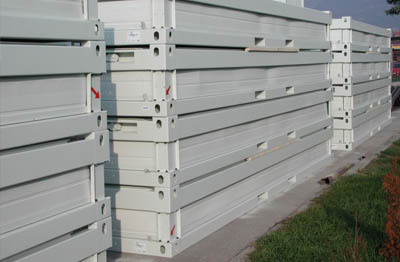 Container House Introduction:
Container house, exactly it is containerized home unit. It is different from usual home container. The usual container house made into shipping container. But these container housing is brand new. It is made of steel construction as the skeleton of building, EPS two-side steel color sandwich panel as wall. The roof divided into sloping and flat. Materials of the roof are the layer of EPS, rock wool and metal tile. These houses build within three floors. 

Container house unit can reduce wast , offer energy-saving designs ,construction efficiencies, and restricting conditions such as a lack of power, lack of water are avoid. For that reason these house is very suitable build on the site for temporary dwelling or emergency.
Container Technical Specifications:
ITEM
SPECIFICATION
1 Size
(1) External diameter: L 6058mm * W 2438mm * H 2896mm
(2) Internal diameter: L 5820mm * W 2200mm * H 2680mm
Color: white or blue ---Depend on you
2 Steel Frame
4mm thickness steel plate (Hot-galvanized)
3 wall
60mm EPS / PU / Rock wool sandwich panel ---Depend on you
4 Roof
(1) First layer:40mm EPS / PU / Rock wool sandwich panel ---Depend on you
(2) Second layer: 150mm thermal insulation
(3) Third layer: Galvanized roof tile
5 Base
(1) First layer: Hot-galvanized steel sheet
(2) Second layer: 75mm insulation Foam board
(3) Third layer: 18mm plywood base panel
(4) Fourth layer: PVC covering floor ---Depend on you
6 Door(1pc)
Steel security door(with keys):
Size : 840mm*2000mm---Depend on you
7 window(2pcs)
Sliding PVC windows : Size--800mm*1100mm ---Depend on you
8 Electricity
(1) 1 distribution box ; 1 circuit breaker
(2) 2 Ceiling lights ; 3 sockets
(3) 1 switch; 3C electric wires ---Depend on you
9 water pipes
4pcs PVC water pipes
* Container Steel Frame: Container 's frame is manufactured of high quality galvanized structure steel by the advantest technology structure system.
* Container Exterior Surface Covering: Color steel sandwich panel with EPS, PU or Rockwool insulation. Containers body sheet is demountable therefore it is easily replaced if it is damaged for any reason in future.
* Container Interior Surface And Ceiling Covering: PVC panelling (if required fiber cement lam can be used.)
* Container Insulation Wall insulation: 50mm thick expanded polystren foam(16kg/m³). Fire resistance class B1.
* Container Roof insulation: 80mm matress glasswool (14kg/m³)
* Containers Floor system and covering:2.5mm thick PVC roll over 15-16mm thick noncombustible fibercement board.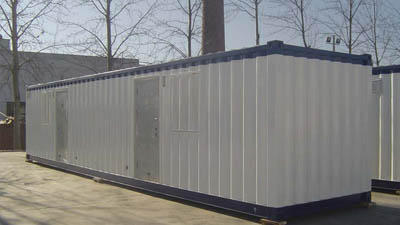 Container House Modified From Standard ISO Shipping Container
TIANDI can also provide modification containers used as office, camp house, ablution containers. Containers modified from standard sea containers are more stable and stronger. These products are widly used in all kinds of situations such as military camp house, gold camp house and temporaty labor house. It is very connvinnent for them to transport among the sites.
We convert these standard containers into offices, industrial modules etc. by lining, insulating, fitting partitioning, high security personnel doors and windows. We can fit all the electrics, heating and air-conditioning as required. These containers could be converted into toilet blocks, kitchens, canteens and changing rooms. We can also remove complete sides enabling us to link units creating even larger work areas. Of course you could simply use them as they are as large stores.